The History of Scaughmolin Blondes
Written by Des Greene from Scaughmolin Blondes;
Scaughmolin Blondes
In the early 1990s, in addition to a busy hoof-care practice, Des farmed suckler cows on his farm at Hazelwood Scaughmolin Co. Wexford. It was at this time, on the advice of the late Anne Falon that he purchased his first pedigree Blonde d'Aquitaine bull in Co. Carlow, which Anne had bred on her farm in Duncormick, Wexford. The resultant calves from the crossbred suckler cows grew to very impressive weanlings, this together with the additional characteristic of easy calving were hugely important due to work commitments at that time. These weanlings were much sought-after for the weanling export trade throughout the 90s.   
Enthusiastic to improve the herd quality, Des purchased two pedigree Blonde d'Aquitaine heifers from Pat O'Hanlon from Kilkenny in 2002. Over the next four years, additional pedigree heifers were purchased throughout the Republic of Ireland. In 2006, two heifers were imported from Laurence Haygart in Cumbria, England. Impressed with the quality available in the UK and Northern Ireland, a definitive decision to replace the remaining crossbreds with pedigree stock was made.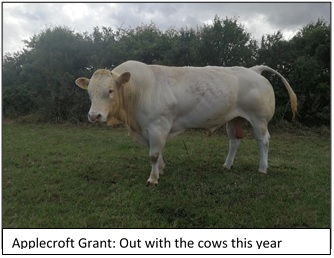 Twenty pedigree females were imported from Northern Ireland in March 2007, with an additional five purchased in May of the same year.The herd profile improved over the intervening years with selective breeding of the better cows with proven AI bulls. In the past quality bulls from Northern Ireland were purchased from accomplished breeders like Mr Henry Griffin and later Mr David Gibson. More recently Des purchased more mature and experienced bulls which already had stock on the ground at time of purchase. This approach was taken as it reduces the risks of poor progeny performance that may occur when using young unproven bulls. Currently the stock bulls on the farm are Applecroft Grant and Burghwallis Gumdrop. Grant was chosen for his great size, confirmation and correctness where Gumdrop has proven himself to be consistently easily calved.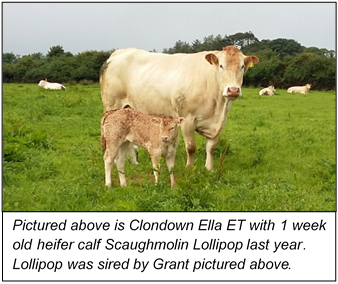 Mr Vernon Buckley's decision to retire from active farming in November 2007 facilitated the purchase of six impressive females to add to this growing pedigree Blonde herd (Ardclone Herd).  These cows and their offspring have been selectively bred and constitute a large portion of the current herd. In 2014 five females were purchased from the Clondown Herd when Mr Stephen Byrne changed his farming enterprise and moved to dairying. Clondown Rose, with whom Stephen had enjoyed immense success in the show rings, was included in that purchase. Since then the Clondown genetics have continued to be successful in the show ring with a young 2017 born Heifer "Scaughmolin Lollipop" (granddaughter of Rose) now proving to be a real show stopper during the 2018 showing year!
Currently Des has around fifty cows in his 'Scaughmolin Blondes' herd. Bulls are sold to commercial and pedigree farmers locally and some have been exported to Northern Ireland and Wales.
"An ounce of breeding is worth a ton of feeding"
Scaughmolin G-Mail
Scaughmolin G Mail (SGA) was an exceptional bull born and bred on the farm in November 2012. He was sired by the renowned terminal bull Blackwater Ainsley and out of a Drop sired dam (Ardclone Weka). As a calf SGA showed great potential and boasted excellent figures for docility, carcass weight & carcass confirmation. At the time of weaning he had an amazing star rating of 24 out of 25 possible stars. With these stars he got noticed by Gene Ireland and at 14 months was purchased to become part of the Gene Ireland Bull Breeding Programme where semen is taken to be sold on a commercial scale. Since then his reliability has significantly increased (88%- 92%) and his terminal stars are still of a superior standard. Semen from SGA continues to be used regularly on the Scaughmolin Herd, consistently producing 5 star terminal bulls that are sold for their terminal reliability. Although not suited for heifers G-Mail has proven to be a fantastic terminal sire for cows.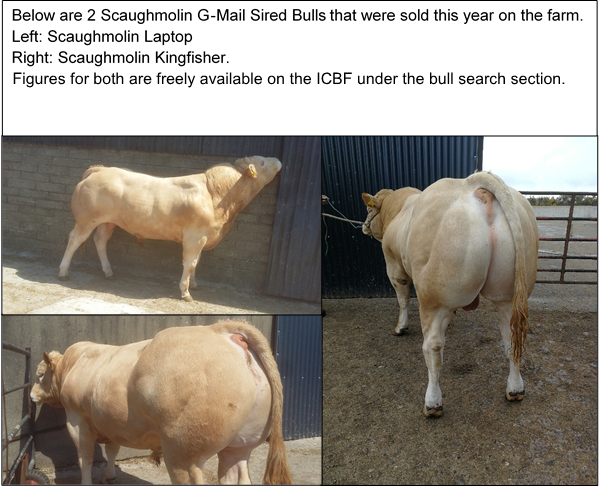 In Spring of 2018; two 20 month old bulls by SGA, both retaining and repeating 5 star terminal and 4 star maternal characteristics were sold, influenced in no small part by the reliability of SGA performance indicators to date. Currently there are six young bulls by SGA in the herd, all showing great potential.
In 2017 progeny by SGA (IE371189980758) entered the ICBF Tully Test Centre and the performance of this animal was quite spectacular to say the least. At 19 months of age this animal achieved a weight of 660kgs with an average Daily Gain: 2kg amongst the highest daily weight gain and conversion rate of all progeny being tested. Carcass Weight: 415Kgs, killing out at 63%. His Carcass Grade: E-2-
Consider viewing the video on the ICBF site "Scaughmolin G Mail (SGA) progeny"
Showing

Tullamore Show 2018
Scaughmolin Lollipop, an August 2017 born female (pictured with dam above) by stock bull Applecroft Grant (By Arawn) won her class; Pedigree Blonde d'Aquitaine Male or Female born on or after 01/08/2017. Pictured above to the left
Iverk Show 2018
Scaughmolin Lollipop again won her class and went on to win the All-Ireland Pedigree Blonde d'Aquitaine calf championship and also won the Irish Blonde d'Aquitaine Society Champion of the Iverk Show 2018. Apart from the Pedigree blond classes on the day we also had Scaughmolin Lindt and Scaughmolin Lollipop in the pair's class. Here they were placed third in a class of 9 interbreed pairs, giving the breed a much needed boost in a field of top quality pairs from all the major breeds.
Judging
Des has been honoured and privileged to have been asked to judge the Blonde d'Aquitaine breed at many show locations in recent years both in the Republic and in the UK. Most recently he has judged;
In 2017 he judged the Northern Ireland Blonde Club herd competition.

Also in 2017 he judged the Blonde d'Aquitaine classes at the Castlewellan Show.

In July 2018 he judged the Blonde d'Aquitaine section at The Royal Welsh Show.